JAMAR Paints, our online paint shop, is coming soon.
We have an extensive paint department upstairs in the JMR Centre – why not come in for some quality advice and a look around? We have all the paint and paint accessories you could possibly need.
We even have a small children's play area so that you can take the time to discuss your decoration project with us.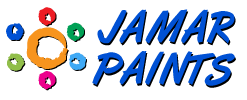 Browse paints and wood finishes using our wholesalers' catalogs:
www.crownpaints.ie
www.colortrend.ie
www.sadolin.co.uk
www.sandtex.ie
www.blackfriar.co.uk